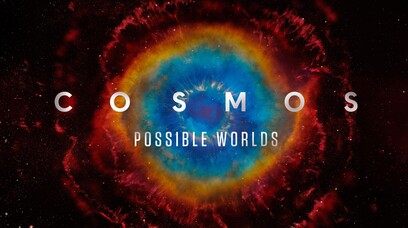 Correction: as of March 10, Cosmos is NOT available on Disney Plus. As far as I can tell, you can currently get it only on cable services like Hulu Live TV or YouTube TV. (Ugh. If I wanted to pay that much, I would have stuck with cable.) It's expected to be on Disney Plus after it finishes airing on National Geographic (hopefully).
I can't believe it took me until almost the premier to find out about this, but it's finally here! The third season of Cosmos airs tomorrow night! Featuring the return of Neil deGrasse Tyson and 13 all-new episodes, Cosmos: Possible Worlds is quite likely to be the biggest science show of the year.
It's kind of odd to call this "Season 3" given that "Season 1" was 40 years ago, and "Season 2" was six years ago, but Cosmos is not an ordinary television show. The original Cosmos, subtitled A Personal Voyage, was the iconic 13-part series about the universe and our place in it, which was hosted by the great Carl Sagan way back in 1980. It has been viewed by 500 million people in the intervening four decades and was the most-watched public television show of the entire 1980s.
Sadly, the fragmenting of television into cable channels and streaming services makes it pretty near impossible to get that kind of viewership today, but the quality of the show has not diminished. "Season 2" of Cosmos, A Spacetime Odyssey, was the remake in 2014, also hosted by Neil deGrasse Tyson. I reviewed that season extensively at the time. See this post to start off, but in short, I thought it was very much a worthy successor to the original and still stood out among the much more crowded field of science shows we have today.
Also, note that A Spacetime Odyssey really was a remake, with eight of the 13 episodes being in many ways updated versions of seven of the episodes of the original. And these were stories that needed to be told because a lot had changed in 34 years, both in science and society. But I felt the new Cosmos was at its best when it branched out and told new stories, unencumbered by the long shadow of the original, so I'm excited to see what they do with a completely new season this year.
(Although based on the episode titles, two or three episodes of this new season may still call back to the original.)
The newest installment, Cosmos: Possible Worlds, will go into more depth with the new science of extrasolar planets, the exploration of the solar system, and the search for extraterrestrial life, while maintaining the dedication to scientific literacy and opposing antiscience policies that have been a staple of the show from the beginning—and it will include a tribute to Carl Sagan himself.
Sagan's widow, Ann Druyan, remains on the writing and producer teams of the show, and Seth MacFarlane is also there as co-producer. MacFarlane (in addition to his many comedy credits) is an avid science enthusiast and was the driving force behind getting the remake made in the first place. With them at the helm and Dr. Tyson hosting, I'm confident that the new season will be up to the same standards as the previous one.
Where to Watch
Cosmos will air on the National Geographic Channel starting tomorrow (Monday, March 9) at 8 pm Eastern. If you want to watch it online… (Um…Googling the National Geographic Channel…owned by Fox…which was bought by Disney…) Well, they finally did it. They got me to subscribe to Disney Plus. You can stream it online there. And if you want to stick to broadcast, it will also be airing on Fox Network later this summer.
I will be reviewing this new series in chunks much like I did with the original, so stay tuned.